FAQ
Will I be running from sleeper to sleeper?
No! The railway is (sadly) long gone and the route is half on roads and half on walkway.
Safety Information
Your safety throughout the event is of paramount importance to us. Please follow the directions of our road marshalls at all times. Further information for runners is available here. Please read this carefully. Our aim is to make this a safe and enjoyable event for everyone.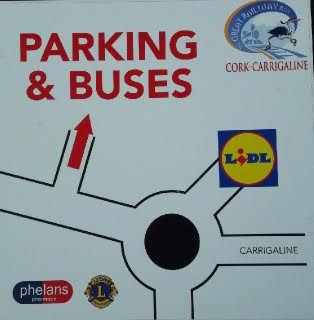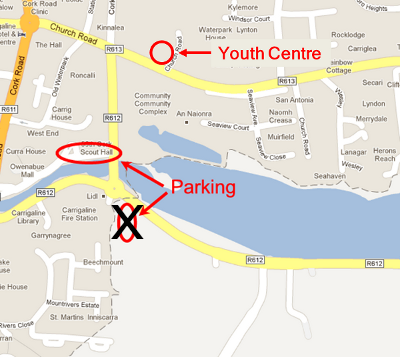 Click to enlarge
Transport (free of charge)
Buses to the starting areas will leave from Carrigaline before the race. Buses will leave from the Circus Field (beside Lidl) at the following times: (Times may change! Please check back here closer to the event date.)
25K: Bus to Victoria Road at 8:30 am sharp
10K: Bus to Monkstown at 10:00 am sharp
Transport will also be available from Carrigaline to Cork after the event. Buses will leave the Youth Centre and travel to Centre Park Road and Monkstown at regular intervals between 11:45 an 13:00.
Where possible, participants are encouraged to provide their own transport as places are limited.
Parking in Carrigaline
For those leaving cars in Carrigaline, the preferred parking area is the Circus Field (beside Lidl). The bus to the starting areas for all races will leave from the here. See bus times above.
Is transportation of bags arranged to the finish?
Yes, we will arrange to transport your bag to the finish. At check-in, you will be supplied with a self-adhesive baggage tag with the same number as your running number. Please make sure that this tag is placed on your bag. Bags can be collected in the Youth Centre in Carrigaline after the event. While, the event organisers will make a reasonable effort to ensure that all baggage is delivered safely to the finish area, we will not be liable for any loss of or damage to any item of baggage or any items contained therein. Participants are advised not to leave any items of value in their bags.
Is there an age limit?
There is no upper age limit but our insurance doesn't allow us to accept anyone under 16. In addition, we have a minimum age limit of 18 for the 25K event in line with the recommendations of Athletics Ireland.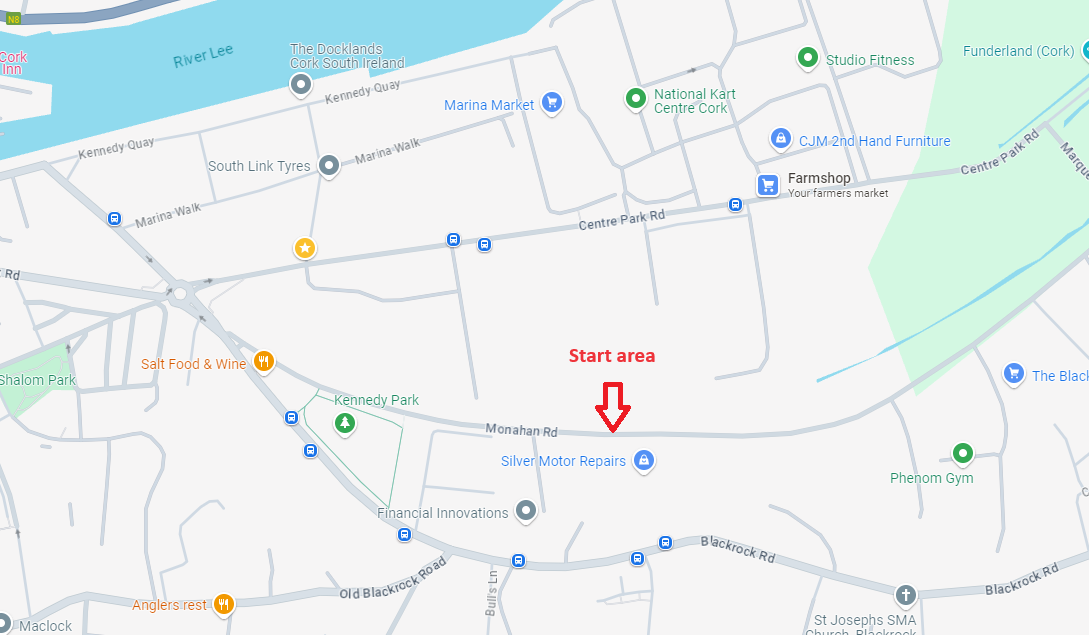 25K Registration Area - Click to enlarge
Registration
All participants must pre-register for the event, either online or by post.
Normal on-line registration closes at 23:59 on Sunday 8th November 2020. You may continue to register on-line up to 23:59 on Friday 13th November but a late registration fee will apply (See Late Registration). Late registration will also be available on Saturday 25th April (see under Check-in below). New registrations for the 10K and 25K events will NOT be accepted on race day, Sunday 26th April. See here for price details.
Getting your Bib Number
Bib numbers have a UHF chip built into them which is used to record your individual start (25K only) and finish time (10K and 25K) so it is important to get your individual number before the race.
When registering online, you can opt to have your number posted to you. If you do not request this option, you will need to check-in before the event to collect your Bib Number. Bib Number collection will be available on Saturday 14th November from 5PM to 7PM at Phelan's Midnight Pharmacy just off the Kinsale Road roundabout. Alternatively, you can collect your number at the check-in desk near the starting area but please be there at least 30 mins before the start. (See registration locations below.)
For the 25K, check-in is on Centre Park Road, about 50m before the start line. Check-in will be open from 8:30am.
For the 10K, check-in is the car park in Monkstown (opposite the Bosun) from 10:00 am.
Has the course been professionally measured?
Yes the course has been measured professionally using a Jones Counter. All participants in the 10K and 25K races will be individually timed using a chip timer.
Is there a cut-off time for the race?
Yes, the cut-off time for all races is 12:30pm and all participants are requested to leave the course by then as there will be no safety measures in place after that time.
Are there shower facilities available?
There are no shower facilities available in the Youth Centre.
Are there toilets available on the course?
Toilet facilities will be provided near the 25K starting area in Centre Park Road and in the car park at Monkstown.
Will there be massage treatments available afterwards?
Yes, a full rehab after the race will be provided by Maher Sports therapy in the Carrigaline Lions Youth Centre.
Water / Refreshments
Water stations will be provided along the course at approximately 4.5km, 9km, 13km, 16km, 21km and finish area. They will be located as follows: (subject to change - please check here closer to the event)
BLACKROCK CASTLE - On the walkway just beyond the car park (25K)
ROCHESTOWN - The Old Railway Platform 400m AFTER Harty's Quay apartments (25K)
PASSAGE WEST - Car Park before Town Hall coming from Rochestown direction (25K)
MONKSTOWN - near as possible to the tunnel (25K)
SHANBALLY - near the roundabout (10K & 25K)
FINISH - just beyond the finish line (10K & 25K)
Refreshments including soup and sandwiches will be provided in the Carrigaline Lions Youth Centre after the finish.
Are event T-shirts available?
Yes, long-sleeved technical running tops printed with the event logo are available to purchase on the event registration website, price €18. A limited number of tops may be available to purchase after the race.
Dogs
Due to the large number of participants and in the interests of safety, participants will not be permitted to bring dogs on the course.
Prize Categories
Participants in all race categories will receive a specially commissioned medal after completing the race.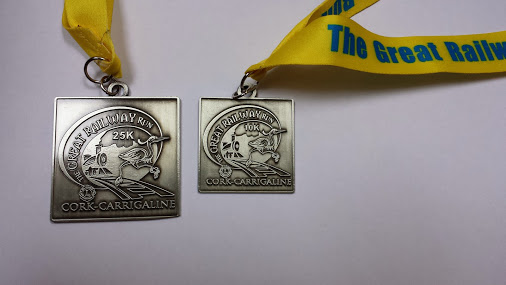 €3000 in prize money sponsored by Phelans Pharamacy. Prizes will be awarded for best overall placings as well as for age categories. Strictly one prize per entrant. The Joe West perpetual trophy will be awarded to the fastest male and female in the 25K race. Cash prizes will be as follows:
25K
Men Overall: 1st €400, 2nd €200, 3rd €100, 4th €50
Men Categories: Wheelchair, M40, M45, M50, M55, M60, M65 - 1st in each category €50
Women Overall: 1st €400, 2nd €200, 3rd €100, 4th €50
Women Categories: Wheelchair, W40, W45, W50, W55, W60, W65 - 1st in each category €50
10K
Men Overall: 1st €200, 2nd €100, 3rd €50
Men Categories: Wheelchair, M40, M45, M50, M55, M60, M65 - 1st in each category €50
Women Overall: 1st €200, 2nd €100, 3rd €50
Women Categories: Wheelchair, W40, W45, W50, W55, W60, W65 - 1st in each category €50
The prize giving will be held after the race at approximately 12:45pm in the Carrigaline Lions Youth Centre on Church Road.